Mini

Coach bus

(21- 24 passengers)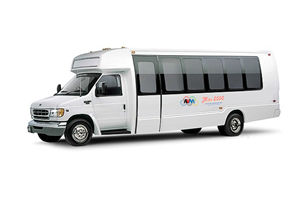 If you think renting a 58 passenger bus is too big for your needs, and have fewer passengers, then we have the 21-24 passenger bus to travel anywhere in North America. It's an economical way to transport your group to their destination.
Many corporations feel the 21 to 24 passenger mini bus is comfortable for shuttle transports. It is a cost efficient way to move the group over large or short distance. We provide shuttle services for companies that are re-constructing their parking lot. Our mini coach interior is similar to our luxury coach, only without a restroom.
Built in GPS
Reading lights
Climate control
DVD entertainment system
PA / cordless microphone system
Reclining seats and foot rest
Luggage - Behind carriage compartment and onboard overhead storage
Average Mini Coach Bus Charter Price:
$600-$650: Local Services (depending on hours and distance)
$700-$750: Outer Skirt Service (depending on hours and distance)
You just need to identify a spot on the map anywhere in North America and we will take you there comfortably and safely. Our highly trained and experienced staff ensures your satisfaction is met. We are not satisfied until you are...