Luxury

Passenger Van

(11- 15 passengers)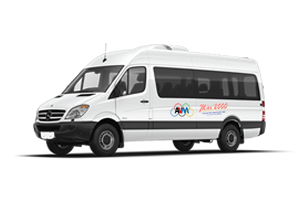 Going on a 9 days vacation to Orlando, Florida with your family? This is the perfect vehicle for your family to travel and sight see all the way to your destination and back.
Our luxury van provides various features that is similar to our Luxury coach bus. This van is great for inter-city tours, wedding shuttles, and airport shuttles. Our vans are also available for overnight charters, and sports team travel.
Built in GPS
DVD entertainment system
Luggage - Behind carriage compartment
Average Passenger Van Charter Price:
$200: Airport Drop-off
$250: Airport transfer to hotel
$250-$450: Local Services (depending on hours and distance)
$450-$650: Outer Skirt Service (depending on hours and distance)
You just need to identify a spot on the map anywhere in North America and we will take you there comfortably and safely. Our highly trained and experienced staff ensures your satisfaction is met. We are not satisfied until you are...